Near the Frysian town Franeker, somewhere in a channel in the meadows, we moored to the 'Albatros', a historic motor barge built the beginning of the last century. Michel, in daily life technician on a wharf, is the owner and captain of this strong old cargo ship. He uses the Albatros is for leisure, inviting friends, for activities around the Water scouting.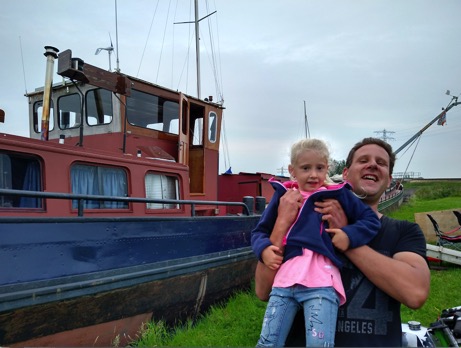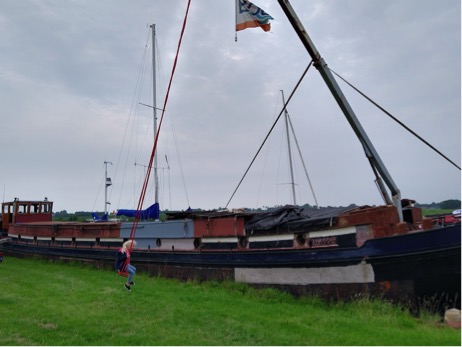 Preserving the history
Michel revised the beautiful old original 3 cylinder Kromhout diesel engine. Every mechanic who sees, hears and feels these pistons slowly, smoothly and steady going up and down, would give a deep sight of sheer luck.
I asked Michel if he enjoys it all. But he answered: "Well, to be honest, since I have no cargo, the ship is too light for this big engine. It simply can not do the work what it is built for. Only in stationary I already make enough speed. And, I nearly always make short distances, sometimes only 5 or 10 miles. This all is bad for this beautiful engine."
Indeed, it is a pity to only run an engine in only the lowest rotations. It is inefficient, it wears the engine and the fumes contain a lot of fine dust, with extra NOx and SOx. All bad our health, for nature, and bad for the next generations.
Sailing sustainably
Michel solved the problem sustainably: "I have built in an electric motor and connected it to the shaft of the propeller. Easy does it!"
This is the way to respect the history, and respect the future of the next generations. Like his daughter's. Now he has reduced his emisssions with about 80 to 90 percent!. And by the way, it is efficient, saves money so he will get his costs back.
Seeing is bellieving
Here below you find a small film from the engine room, with the Kromhout engine, and with the electric engine in its work and running the propeller shaft.
You want to know where the Ya is now? Check here