The Ya sails around the world without using fossil fuels. No diesel, no gas, no petrol. On-board life is energy neutral and very comfortable. Sustainable cruising means to us: sailing globally, living locally. We buy, eat, live and act where we anchor.
With the locals we exchange information and methods about sustainability and living self supporting . Whatever we learn from them, we share with you on our blog. In exchange, we deliver a clean wave in all corners of the globe.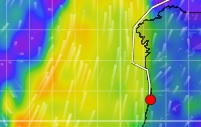 Here we are right now
Check our itinerary on the map.
Check the Schedule to find out where we intend to go and see all the places you can meet us.
---